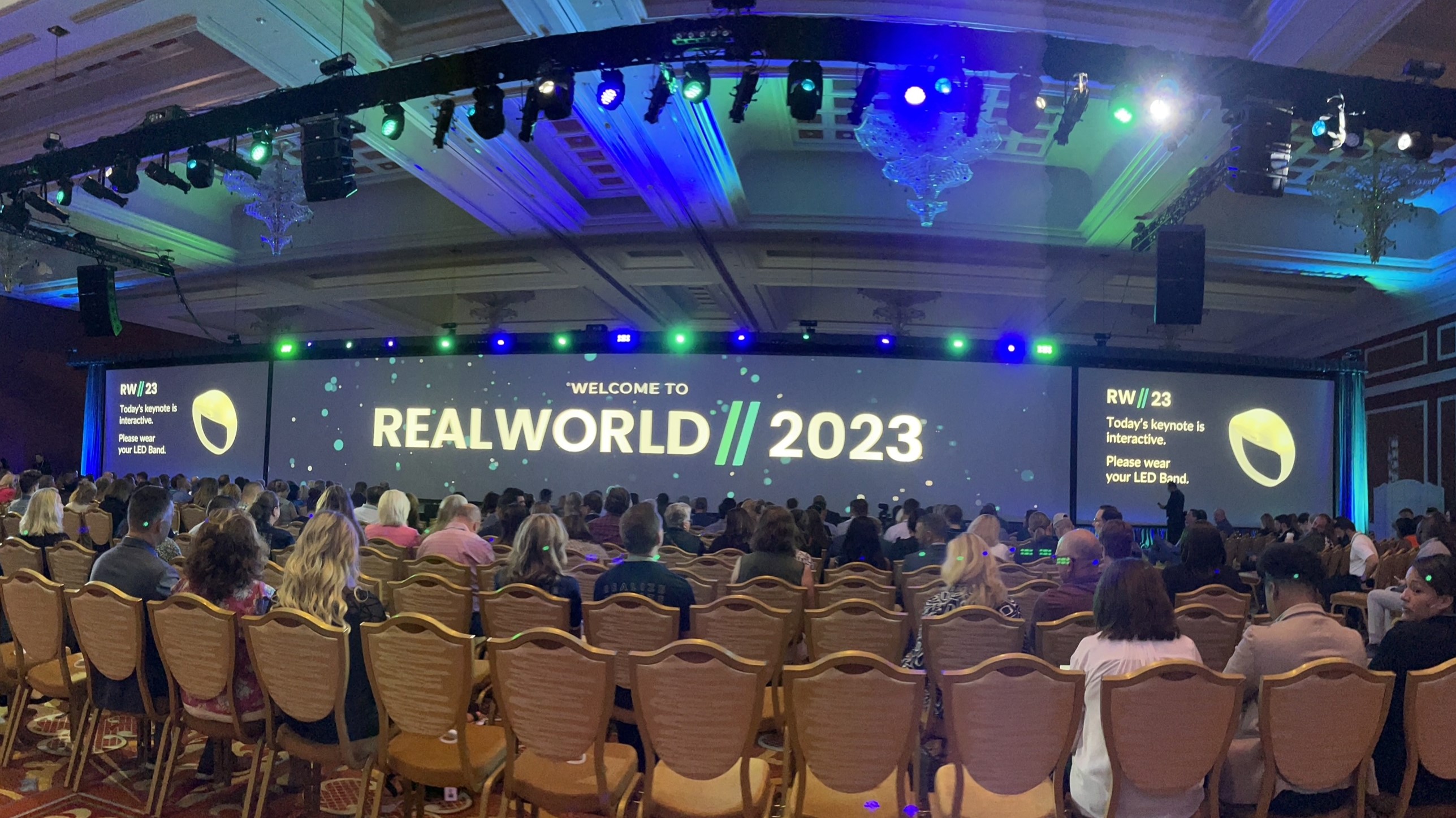 This week I had the pleasure of attending RealWorld 2023, RealPage's annual user conference in Las Vegas. It was an enjoyable couple of days that at once offered a glimpse of the future of an evolving industry giant and a trip or two down memory lane. I will share my thoughts on both in this article.
My last visit to RealWorld was in 2018, when I ran the event for RealPage. The changes to the event in the intervening years are instructive of the company's evolution over the same period. The 2018 event had well over 90 breakouts, spanning RealPage's ever-expanding collection of products. This year's show offered an altogether more concise program of 40 sessions.
That is a good thing—and there's more to it than simply going full Marie Kondo on the session content. The program was more focused because it cohered to a set of narratives that permeated the show. Concepts like "front office" captured pricing, leasing, marketing and resident experience, while "back office" encompassed property admin.
It appeared to spark joy: historically, RealWorld tended to showcase its innovations product-by-product. This year's content focused on the problems the technology collectively solves. Products are a level of detail below the real areas of focus. Two years into CEO Dana Jones's stewardship, RealPage's solutions appear more holistic and uncluttered than they used to.
AI With Everything
It seems that every industry tech conference ends up being about AI at the moment, and it's fascinating to observe how different vendors are approaching it. The increasing presence of AI in RealPage's stack was a consistent theme in Jones's keynote. The strongest focus seemed to be on eliminating redundant tasks, with the ambitious target of using AI to eliminate up to 80% of repetitive back-office tasks.
We got more details during an interesting session about back-office centralization. Regular readers of this blog will be familiar with my view that while leasing centralization dominates the industry conversation about centralization, more multifamily operators are moving administrative functions off-site. That should not be surprising: most industries have reaped the benefits of moving admin to shared service environments. Multifamily is belatedly embracing this trend.
The shift towards back-office centralization is especially intriguing for RealPage. Admin functions rely heavily on the property management system (PMS) as the system of record. With RealPage's OneSite conceived as a site-focused PMS, the ability to bridge the gap between properties comes to the fore. Users increasingly want flexibility in operating at property, regional, or central levels. AI has a pivotal role to play in simplifying and aggregating activities like move-ins and move-outs, renewal processing, and month-end close.
The front and back office sessions discussed the concept of "Flexible Centralization," where the technology enables companies to aggregate activities to different levels. Again, readers of this blog will be familiar with my views that centralization is not a one-size-fits-all proposition. Some portfolios have clearer opportunities for centralization than others. The concept of flexible centralization takes it a step further, enabling multiple staffing models within the same portfolio.
The Launch of DemandX
The biggest reveal at this year's show was DemandX, a platform that brings together revenue management, CRM (leveraging the recently-acquired Knock), and marketing spend optimization (powered by G5). This development evokes fond memories: the last ever Rainmaker (LRO) User Conference that I ran in 2017 followed the acquisition of ILM, a core CRM platform. The entire program for that conference was about integrating revenue management and marketing.
Now, as then, the central tenet of the value proposition is to orientate more decisions around exposure - the number of units that are likely to be vacant during some future period (typically the next 60 days). Any revenue manager knows how central exposure is to future pricing decisions.
It should also be driving property marketing decisions. As one panelist put it, marketing tends to focus on vacancy, which—given the elapsed time between placing an ad and signing a lease—misses the opportunity to make a difference. By focusing instead on exposure by unit type, marketers can know what demand they need to stimulate and target dollars where they will improve performance.
AI has some interesting applications in the DemandX platform. Machine learning analyzes various factors to estimate each unit's propensity to renew. That improves the quality of exposure forecasting, which is central to pricing and marketing. It can also make lead scoring more sophisticated using the same exposure needs to prioritize leads. There is talk of automated drip campaigns to develop demand higher up the funnel.
The devil will, as always, be in the details. The platform comprises three separate applications; not all companies will use all of them. But it is the right problem to solve, and it makes sense of the acquisition of Knock, which—by becoming the single system of record for leasing transactions—will simplify multiple leasing-related processes.
Overall, I was impressed with RealWorld 2023. The event always had an abundance of ideas - it now has a story. I thank RealPage for inviting me and for the opportunity to understand the direction of travel of one of our industry's technology behemoths.