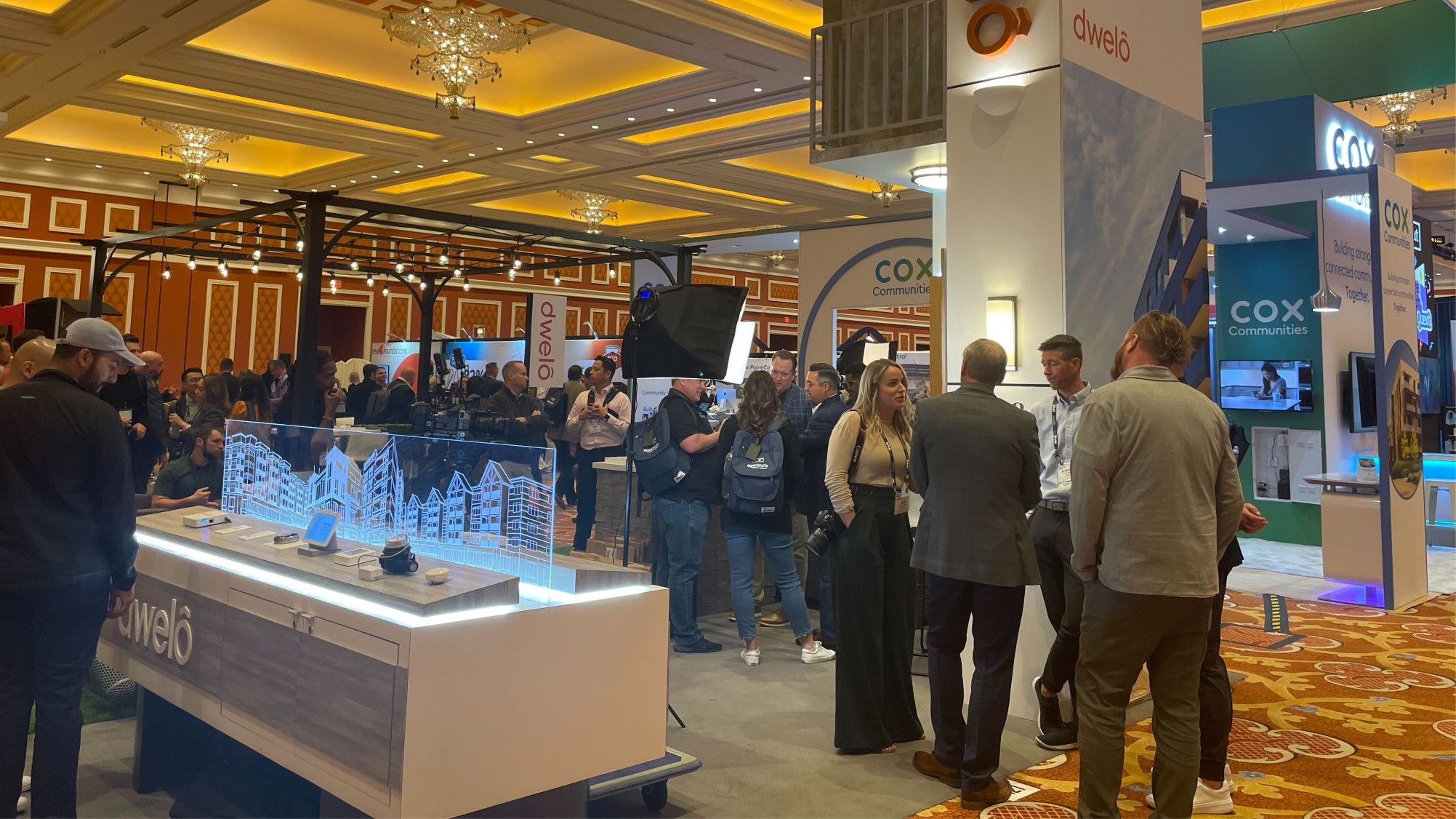 Like many people in the industry, I just returned from a few days with about 2,500 of my closest friends in multifamily ops and technology. NMHC OPTECH, which took place in front of a record audience, delivered its usual thought-provoking blend of sessions and related conversations.
There's too much to do justice to in a single article. But we got some insights into what the industry can expect in the coming year, some of which I will share here.
What to expect in PropTech
The economic conditions and their potential impact on technology came to the fore in a session about Multifamily Technology Investing. Michael Beckerman of CREtech opened the session by saying that he was bullish on the ecosystem but that we are at an interesting point in the journey, counseling that we should look to adoption patterns to understand the prevailing trends in tech.
To the question of the journey, John Helm (here dubbed the "OG of PropTech investing") shared some insight into the strategy that thus far has made RET successful. He spoke of investing in themes, with a natural focus on operations. The strategy brings together point solutions that collectively can solve large process problems for multifamily. He used the example of self-serve leasing as a macro trend to which CRM, AI leasing capabilities and access control all contribute.
It is a perspective that echoes a finding of the 2022 edition of 20 for 20, where most of the executives predicted that their technology stacks would become less bundled and more best-of-breed orientated over the next few years.
In talking about the future of the vendor environment, the panel noted "a plethora of providers," each of whom could make a step change in the industry's capabilities. At the same time, it's getting more expensive to finance companies. It seems inevitable, therefore, that there will be a consolidation of vendors for the foreseeable future.
Finally, we heard a note of caution on the "Costco Effect," which can happen when a startup lands a large and demanding customer too early. A combination of highly specific requirements and unfavorable economics can devastate a fledgling startup. The panel reccomended that operators refrain from "piloting vendors to death."
Centralization Center Stage.
An interesting counterpoint came in in a later session about centralization. Kristy Simonette of Camden Property Trust shared an interesting—positive—example of piloting during their initiative to centralize leasing. Kristy shared it was because they had begun to pilot the combination of new technology and processes that leasing agents came to prefer them. It provided its own impetus to roll out the technology, accelerating a project that has so far delivered impressive results.
The conversation, "NextGen Centralization," featured an interesting mix of perspectives: a public REIT, a third-party manager and a smaller operator. In the case of RangeWater, the company's growing focus on the build-to-rent sector created a need for a new operating model which operates in a more centralized fashion.
It also sounds like institutional owners are looking to capitalize on the trend, with some asking for opportunities to pilot centralized models. Overall the panel surfaced themes that have been explored elsewhere, like career progression, improving jobs and delivering better outcomes with fewer people.
Like most of the industry, this conversation focused on leasing and accounting and not (yet) maintenance. Although the upside of centralizing maintenance, with its perennial staffing challenges, is highly attractive, it remains a harder function to change. But companies are making headway in this area - watch this space for more in the coming weeks!
Taking Stock on AI
Finally, one of the most interesting conversations was about the growing role of AI in multifamily technology and operations. A thoughtful session worked to define the kinds of AI currently at play in the industry.
Sudip Shekhawat of LeaseLock explained that it's helpful to think about AI as "Augmented intelligence," as AI primarily adds value to processes driven by humans. Sudip and the panel drew a sharp contrast between this and "generative AI," where the technology can perform more creative functions.
Stephanie Furman of Entrata put it nicely by breaking down the domains of intelligence that the technology can support as: "Hindsight, insight and foresight," adding that the foresight part represents our biggest opportunity at this point.
Both of these categorizations are helpful in understanding the state of this technology. The most thought-provoking part of this session was the discussion of ethical AI, which the panel defined in terms of the "fairness, inclusion and transparency" of data sets and their use by the AI. Sudip likened this to "showing your workings" in solving a math problem. The greater the transparency, the greater the trust and, ultimately, the adoption of the technology.
The discussion raised the tricky subject of responsibility for intelligent agents' activities and the data they are using (which can come from multiple sources). Data usage seems likely to come into focus in the current multifamily climate. Guardrails designed for today's processes seem unlikely to regulate machine intelligence that can make its own decisions on how it uses data. Our industry will have fresh challenges to address as it progresses along this path, as it surely will.
Of course, this is a small subset of the insights on offer at this year's show—I still have a lot of notes to review! Economic certainty notwithstanding, enthusiasm about the outlook for multifamily technology seemed as high as ever. Suffice it to say that I am looking forward to next year's OPTECH, which will once again take place at the Wynn in Las Vegas (book early - rooms run out!)