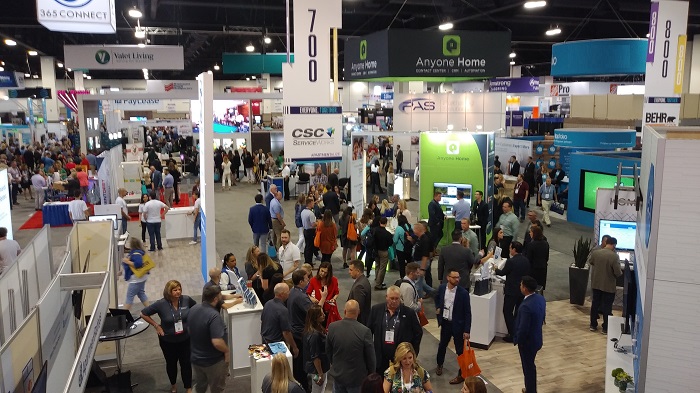 Like much of the multifamily industry, I'm spending this week catching up after a great week in San Diego, enjoying what feels like the first proper NAA Apartmentalize since before the pandemic. In this blog, I'll identify some things that caught my eye during the show.
Regionals Know Best
During NAA, it was my pleasure to interview some regional managers about the technologies they have been implementing at their properties. The conversations (which happened to be about electronic payments) went into great operational detail and reminded me how regionals have a different perspective on operations from the c-suite.
It's easy to think about something like payments as a settled technology—after all, most companies have been working on making them paperless for years. But when you talk to people close to operations, you realize how many opportunities still exist to streamline day-to-day work.
As regionals described what it's been like to relieve their teams of the chores of scanning checks and money orders, they reminded me of something that I noticed during this year's 20 for 20 interviews. As we get more technology, tech decision-making gets more complicated, as leaders delegate more decisions to people who are not the "traditional" buyers of technology in their organizations.
I recently wrote a post about the changing nature of tech decision-making for Mike Brewer's Multifamily Collective blog. It pays for senior operators and vendors to pay closer attention to the details of how proptech is changing operations, especially things (like payments) that often fall off the senior management radar. I enjoyed the perspectives I heard at the show and will be writing more about this in the coming weeks.
More Tech, More Sophistication (In Sales Processes)
On a related note, I met quite a few people who seem interested in the idea that decision-making processes are changing. Numerous meetings told me that savvy vendors are thinking harder about how to be relevant to the broader swathe of technology decision-makers.
That entails not only thinking about different buyer personas but also taking a closer look at what really drives their buying decisions. Here, another 20 for 20 finding comes to the fore: the "myth" of ROI. As the research strongly suggested, multifamily technology buyers are seldom, if ever, persuaded to try a new technology based on ROI illustrations.
The key point to understand is that while technology sales teams love to think of ROI as a number (e.g., "increase your NOI by x%"), buyers are likelier to see ROI as a rationale. Operators usually know what things improve their businesses and are more persuaded by how technology solves their problems than they are by ROI arithmetic. I got asked about this a lot at the show, so I will return to the topic in the coming weeks.
Property Management Shake-Up?
The backdrop for technology for the last several years has been the "duopoly" of major property management platforms. One of the biggest and potentially most consequential announcements this year came from my friends at AppFolio. The announcement was the launch of "AppFolio Stack," a new program of integrations into AppFolio's property management platform.
This development is important for a couple of reasons. First, with almost six and a half million units on its property management platform, AppFolio is one of the most widely-used PMSs in our industry. Thus far, they have grown by providing a comprehensive property management experience with relatively few integrations to external systems. That has now changed with the announcement of the first round of leading integration partners. More will follow—I spoke to several companies that are excited at the new sales opportunities that an "open" AppFolio will create.
It's also important because AppFolio is a true tier-one technology firm that designs and delivers software exceptionally well. In multifamily, integrations are the bane of most property managers' and technologists' lives. We should expect AppFolio's fresh take to raise the bar on integrations. More broadly, we should watch the competitive impact that AppFolio will have as they continue their climb into bigger and more sophisticated clients.
Watch Apple
Speaking of big companies making waves in multifamily technology, it's hard to miss the incursion that Apple seems to be making into proptech. The addition of an Apple Wallet credential that integrates with smart locks provides the opportunity to unlock doors with apple smart devices without needing to use a dedicated app.
Several lock manufacturers at the trade show showed me how their locks are already using the credential. Thinking about the convenience of ApplePay, it's easy to see how this gets widely adopted. I've written extensively over the years about app fatigue, and the prospect of having your phone unlock a door without having to download another app is exciting.
Presumably, Google/Android will follow suit. If they do, it seems likely to change how residents interact with the smart devices that are becoming more common in multifamily properties. It also begs a much broader question: if mobile operating system functionality circumvents the need for door locking software, what other types of software are next?
Back to Normal
And finally, it was a pleasure to see NAA back to normal. A year ago, the Chicago show was a good effort and a necessary attempt to bring the industry back together after 18 months of lockdown. But it was unsurprisingly quiet by NAA standards.
I sat in a client meeting opposite the conference center on Thursday evening and watched hundreds of people migrate across the tram tracks into the gaslamp district to the various evening receptions. It reminded me of the last time I was in San Diego with NAA Apartmentalize in 2018. The atmosphere is back. The trade show floor was bustling and enthusiastic. Companies brought their A-game to the event.
And for the first time since 2019, the normal summer midsummer inflection point that is NAA is back. The world seems a little more normal than it has for the last couple of years. I see nothing but enthusiasm for the projects that people are working on and look forward to next year's show, which will take place in Atlanta.
Coda.
Like most of the industry, I was shocked and dismayed to learn about the two episodes of gun violence affecting a couple of attendees after the party on Friday night. I join in wishing the two victims a speedy recovery and include details of the gofundme set up to support them.