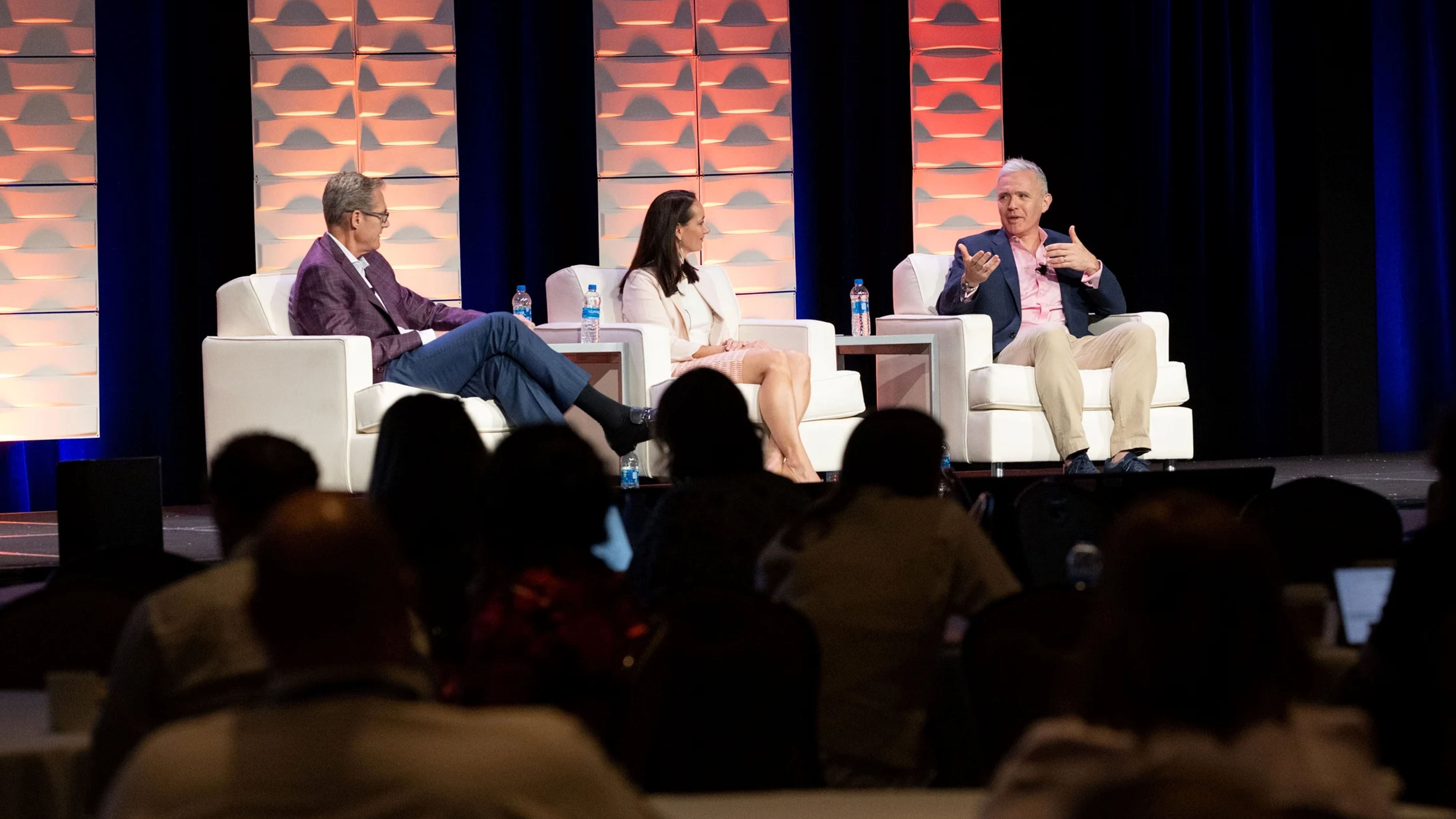 Spring is in the air, and for the multifamily industry, that means time for the annual migration to Huntington Beach, CA, for the Apartment Innovation and Marketing (AIM) conference. This year's show wraps today, and as usual, the organizers delivered a feast of thought-provoking ideas for a record audience.
AIM casts the net wide to find new content, defining "marketing' in the broadest possible terms. But a few themes emerged through the first couple of days of sessions.
Reverse-Mentoring Unleashes Innovation
A highlight of day one was the interview with Nick Tran, the former Global Director of Marketing at Tik Tok and a Fortune 40 under 40 marketers. From an impressive career to date, Tran shared a series of high-impact events that achieved outstanding results on relatively low budgets. A brilliantly creative series of promotional videos retelling Star Wars movies using Star Wars socks (seriously!) enabled Stance to gain audience share while spending next to nothing on media.
He provided similar examples from his time at Taco Bell, including the famous "#onlyintheapp" campaign. The campaign successfully launched a new mobile app launch by conducting a high-profile blackout of all of Taco Bell's social media channels. Similarly, when the people of Bethel, Alaska, took to social media to share a rumor that a Taco Bell was to open in their town (it wasn't), Tran's team grabbed the opportunity to airlift a taco truck into Bethel. The locals were delighted, and social media engagement flew off the charts.
In explaining these activities, Tran spoke of creating "moments" that "break through the noise." He stressed the importance of authenticity as a key to making moments relatable and turning them viral. Naturally, the conversation turned to team dynamics and what things we can do to make our teams similarly creative.
He focuses on two things: breaking through constraints, particularly those imposed by ways of working, and "reverse-mentoring." To achieve the latter, he scheduled a weekly time for his team to educate him and one another on the most current insights into what is driving engagement on social media channels. It created a vital exchange of ideas and an innovation driver.
A Seat at the Table for Marketing
The idea of reverse-mentoring also featured in an enjoyable discussion between Bozzuto's Kelley Shannon and Gigi Giannoni of Gables Residential. The session: "Managing Your Investments In Marketing: Service Providers, Talent, & PropTech" covered the evolving position of marketing in both organizations.In this case, the reverse-mentors are marketing executives, whose role increasingly calls for the education of the C-suite on what marketing has to offer beyond simply delivering traffic.
The panelists advised marketers to work on getting a seat at the table for discussions about individual multifamily assets as early as possible in the planning stage. With a better understanding of the financial and development plans, marketing can help to help shape the project and begin to tell its story to all audiences.
The theme of marketing's potential role in bridging the gap between customers and development returned in another session in which I had the pleasure of being a panelist alongside NMHC's Sarah Yaussi and Tim Hermeling of Cortland. The session compared insights from the NMHC/Grace Hill Renter Preferences Survey and this year's 20 for 20 white paper, comparing the perspectives of renters and multifamily executives. Perhaps unsurprisingly, there was disappointingly little overlap between the priorities of renters and those of executives.
The things renters prioritize (amenities, property technologies, etc.) should be central to the value proposition. But the decisions to add amenities tend to be taken a the individual asset level based on underwriting. Marketing has a role to play in helping their organizations to be more consistent in giving renters the things that have the biggest impact on their leasing decisions.
The Continued Discussion of Leasing Tech
Unsurprisingly, our discussion focused extensively on changes to leasing tech – the highest-priority technology, according to our 2022 paper. The NMHC survey revealed some intriguing evidence that a significant (43%) of renters would be prepared to rent a unit without visiting the property.
Intuitively that number feels high, but perhaps it shouldn't: people buy cars, and other big-ticket purchases sight unseen. I also shared from recent conversations with California-based single-family operators that families frequently rent homes without completing a tour in markets where inventory is tight. So there is a premise for an entirely virtual leasing process.
We observed on the panel that while companies are working hard to automate leasing processes, the innovation is focused on improving the existing tour by making it more automated and self-serve rather than finding ways to replace the physical tour altogether.
Finally, we cannot do justice to leasing automation without mentioning the phenomenal rise of AI leasing agents (another major finding in 20 for 20 this year). We discussed the impressive 2021 adoption of the technology on our panel, and the topic was the subject of a later session led by Ellen Thompson of Respage.
In her session: "Meet the Leasing Office of the Future," Thompson speculated on some of how AI leasing could change how we staff leasing. With substantially less leasing work for humans to do, and with AI becoming better and better at understanding sentiment, predicting likelihood to rent or renew, and so on, we can think of different ways to manage leasing.
For example, leasing could become a more seasonal role than it is now. People other than leasing agents, including maintenance techs, could tour prospects. More radically still, residents could be "Uberized." With the success of advocacy programs like Rentgrata, an increasingly AI-driven leasing process could allow residents to take the additional step of touring prospective renters.
These and other innovations look set to come thick and fast over the next few years, and once again, AIM 2022 was a great forum to explore them. A big thanks to Steve, Dennis, Colleen et al for another excellent show and for being great stewards of one of my favorite multifamily institutions.